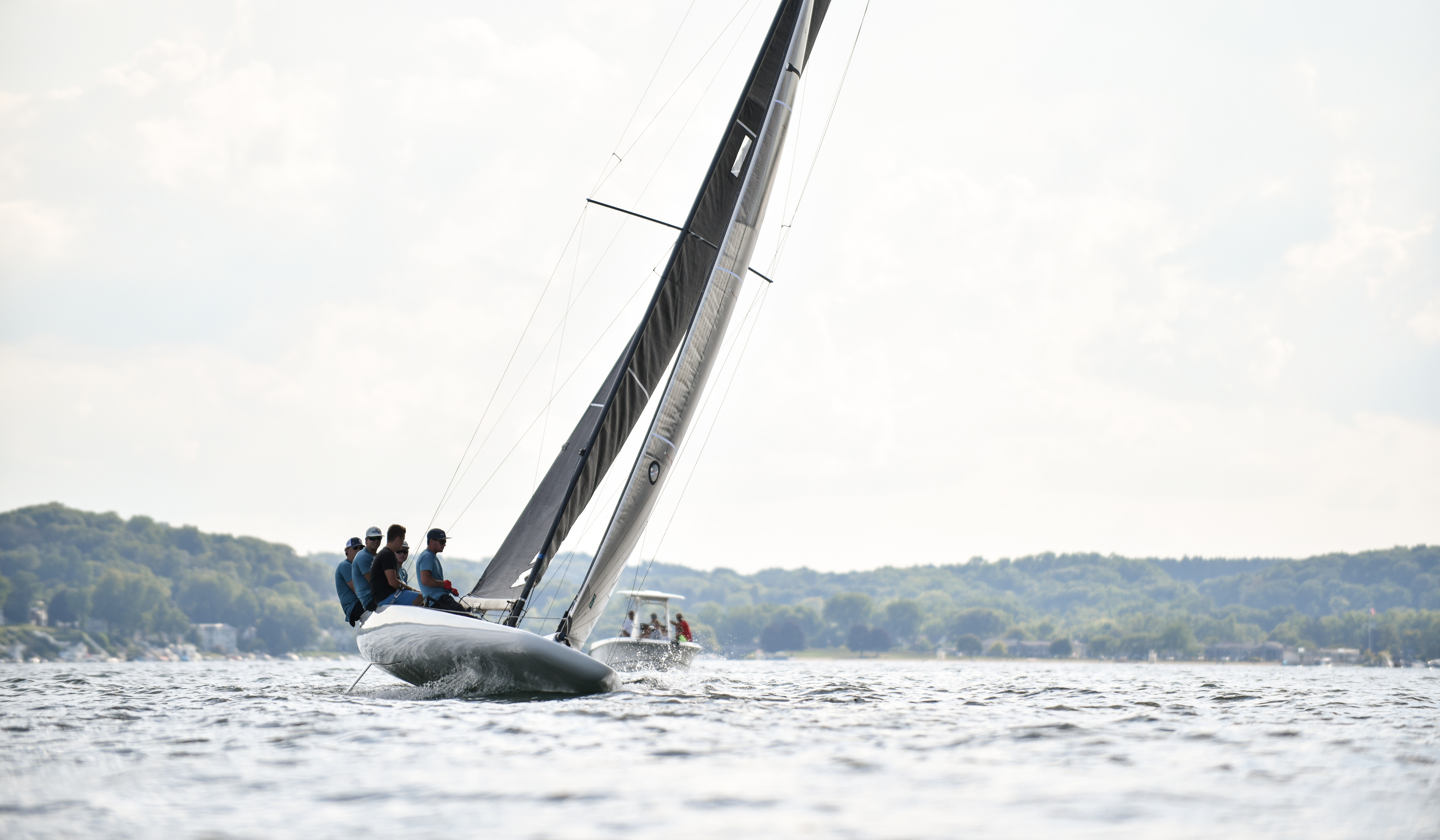 The A Scow is a unique class: it features the largest spinnaker trimmed sans-winch in all conditions and looks more like a 38-foot-long surfboard than a sailboat to some. But, this class is home to some of the fiercest competition in the Inland, with competitors such as Rolex Yachtsmen of the Year Harry Melges IV, Eric Doyle, and Brian Porter, among other legends, taking part in the Inland Championship in 2022.
This year it was Bo Freytag's team 'Smiles', with Melges IV as tactician, who claimed the title. We can't find official history, but this team of all 21-year-olds is almost certainly the youngest A Scow Inland Champion team ever, and their 7,1,5,3 scoreline was a super consistent run of finishes in a regatta peppered by inconsistent conditions. Freytag's team, along with most of the A Scow fleet, have made the switch in 2022 to the Vakaros Atlas 2 as their instrument of choice. Why is that? We asked Harry what made the choice so easy, and how trusting your instrument is such a huge key to success on the water.
Vakaros: Harry, as a tactician, you're probably looking at the instrument more than anyone. What metrics are you focusing most on heading up or down the course?

Harry: I am usually looking at the heading most of the time going in a straight line. I like to look at the SOG out of maneuvers to make sure we are getting up to target speed quickly.

V: Your team was super consistent, and a huge part of that comes from starting well. Can you speak to the importance of getting good pings and trusting those through the sequence?

H: Getting good pings is really important especially in a boat like the A Scow that is so long. I can really trust the Atlas 2s accuracy and the display is really easy to read.

V: We know you like to use the 40mm display, how important is it to have an easy to read display in head-out-of-boat conditions?

H: The 40mm display is awesome! It's really easy to see the display and that is really important when you are hiking in the back of the boat.

V: You obviously had a great team: talk a little about how your team came together for this event.

H: Everyone on our team is 21 years old and we all grew up together in Lake Geneva, WI. Our skipper, Bo Freytag was gifted his fathers old boat and since then we have had Finn Rowe, Ripley Shelley, Ryan Ripkey, Alex Vondersitt, Britt Vondersitt, and myself since the beginning.
We're super proud to equip team 'Smiles', as well as so many other successful A Scow teams. Check out the Atlas 2 to learn why it is the premier instrument for your boat.